C-date
Last Update : December 23, 2019 by Ayana
C-date NZ is the perfect casual dating site for easy-going New Zealanders looking for a temporary affair or a commitment-free relationship.
Since it started a couple of years ago, it has since become one of the most acclaimed casual dating sites in NZ.
Currently, more than 36 million men and women worldwide have joined the dating site to find a suitable partner for an exciting and discreet encounter, hence becoming a global reference for relaxed online daters.
Whether you want to flirt online, find the perfect playmate for a one-night stand or simply get in touch with other singles who don't want to miss new experiences, C-date will meet your expectations! Check our full C-date Review!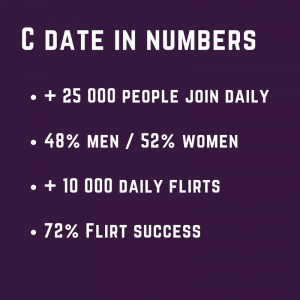 C-date: How does it work?
#1 How to login to C-date: registration steps
First of all, registering to C date is free and very quick.
You'll just need to make sure you have an email address you have access and a password.
For the rest of the registration, you'll be guided by C-date through the following steps:
First, you will have to describe the experience you're expecting to find on the dating sites amongst the following: something long-term, flirting games, chatting, watching or simply meeting singles.
In the second step, you'll be given the chance to state if you're looking to find men or women.
Once you've completed the steps above, it'll be time to add your location or postcode. You should keep in mind that C-date is a location-based site, as such, it is very important to clearly state your region and your postcode in order to receive the best possible matches.
In this step, you'll be asked to give some personal information about yourself, such as your age and your relationship status.
Continuing with personal information, in the 5th step, C-Date NZ will ask you to describe a bit more about your physical appearance.
Finally, C-date registration will be completed once you add your email address and a password. An email will be sent to your inbox. You will need to confirm your email in order to activate your account, so make sure you have access to the email address you assign to your account!
The site then will take into account your preferences to send you daily matches. You will soon start to receive to your inbox profiles of users who are highly compatible with you in the sensual territory.
You can also browse dozens of personal pictures and when you a profile catches your attention,  you can then start a private conversation to see if there is real chemistry.
To do so, however, you would need to upgrade to a Premium account. You will find all the details below in our section C date Cost.
#2 How to create your C-date profile
After you've confirmed your email address, you'll become part of the C-date community.
Before you get access to the search feature, the dating site will guide you through the process of creating your profile. A very important step if you want to have a great c-date experience.
Indeed, your profile is really important as it will be your presentation card. The first element you have to add to your profile is your profile picture, otherwise, you won't receive any visits to your profile. Those pictures help users to understand that your profile is authentic and trustworthy.
Here are some tips to complete your profile in the most attractive way:
Add some information about your lifestyle, such as your education, your hobbies, etc. You'll see that C-date will guide you through the whole process and if at any point you don't feel comfortable answering all the questions, you can always choose the option "ask me personally"
Define your personality and your physical attributes so people can understand more about who you are. You'll find this interesting section under "about me"
Once you've completed your profile, you'll be able to start searching for any other interesting profiles.
You can also check the section" Erotic type". A great place to describe the type of person, relationship or adventure you're looking for.
#3 C-date Search feature
This feature is perhaps one of the most interesting and useful features of your whole C-date experience as it will give you all the tools you need to find the most attractive profiles (and the closest ones to your location!).
You'll need to click on "search criteria" in order to personalize all the filter options (which we highly recommend you to do, so you're sure you're really looking for the profile that has all the qualities that you're expecting to find).
Once you enter into the search criteria you'll be able to modify the parameters of the following categories:
The characteristics of the match you're looking for
The location
Your ideal match
Sexual preferences

Sexual orientation

family status

Country, region, postcode
In detail:

the range of age, height, eyes color, shape, etc.
#4 C-date experience
C-date NZ offers a great and dynamic experience to its users. It is very easy to start contacting with potential matches. You'll be able to start flirting very quickly, from there, you can explore as many avenues as you can think of! From playing erotic games to chatting with other singles and exchanging fantasies, C-date is the platform to go to!
You'll see that C-date will ask you "the question of the day" to help you break the ice with other users.
C-date is a location-based dating site, which means that it will send you daily matches located near you so you can favorite or like the one that attracts you the most!
It is, however, important to remember that in order to properly enjoy the messaging features you'll need a Premium account.
C-date Nz is a great experience for singles that are not only looking for romance but rather great experiences. A fun community to get to know other users, discuss fantasies, meet and get to know each other. There's no taboo in C-date!
You can feel free to talk and discuss any subject that appeals to you, and you quickly see how dynamic and responsive the community is.
A straight-forward platform for those that are not afraid of stating what they'd really like to experiment!
Test C-date
C-date functions as a discreet and safe service for playful singles who seek no-strings-attached relationships and it seems that the site fulfills its objective.
The community is well-balanced between men and women, the ratio being one of the best we have reviewed among casual dating websites.
Just a few minutes after registration, you will be flooded with visits and messages from other modern Kiwi singles in the search for an unforgettable night of passion.
Users are highly active and pretty straightforward describing their intentions, which makes the site to work efficiently when it comes to connecting you with like-minded casual daters.
Main features
You can create your profile, describe your erotic preferences and receive daily matches for free.
The site's searching tool is one its key features. If you get a subscription, you can also:
Receive updates
read and send as many messages as you like
Like and save interesting profiles
Acces to the erotic gallery
Send contact requests and unlimited messages to other users
Filter your search criteria and go into incognito mode
Enjoy an ensured minimum  of contact's proposals
Receive daily matches
C date NZ blog
C date has a great online magazine that we recommend you to check in which you can learn a few tricks about seduction. A great way to fin lots of sexy inspirations to start your own adventure!
C-date Cost
You can login to C-date and create your profile with a standard account. However, if you'd like to start searching for specific profiles or even to message them, you will need a Premium membership. You can see the different subscriptions. It is recommended to take longer subscription if you want to find the most economical and profitable experience!
| | | |
| --- | --- | --- |
| Subscription  | Cost  | Cost per month |
| 3 months | 239.70 NZD | 79.90 NZD |
| 6 months | 359.40 NZD | 59.90 NZD |
| 12 months | 478.80 NZD | 39.90 NZD |
Subscriptions are renewed automatically, so we recommend you to keep this in mind at all moment!
Reliability, and safety
C-date ensures your security and guarantees your privacy with a significantly important customer data protection policy. Be confident that your data are in trustful hands.
Anonymity is one of the mottos of this dating site, therefore they've ensured a very secured, discrete and reliable platform with the help of data protection made in Germany (128-bit SSL encryption).
C date customer service
C date support can be accessed through their "Help" section, which will assist you with any questions you might have. C date doesn't really have a phone number to directly reach the customer service but you can send them an email to [email protected]
C-date cancellation
If you feel like you've already taken advantage of all the great tools of C date and you'd like to delete your C date account, you should know that the process is quite simple and quick.
You'll just need to login to your C date account and go to the icon with your picture that you'll find in the top right corner of the dashboard.
Once there, you'll have to click on "settings" and scroll down to the bottom of the page until you see the option "delete profile".
By deleting your profile, you'll be completely erasing all your information which you won't be able to recover at any point. We recommend you to make sure to cancel your paid subscription before you delete your profile. Contact by email C date customer service to make sure that you've successfully canceled your membership.
C-date rating: Our opinion
Pros
Cons
Perfect dating platform for singles who look for no-strings-attached relationships

100% anonymous

Users are very active

Very effective search tool

Easy-to-use app that is available for Android, and iOS

Despite photos are moderated, you will find some profiles with low-quality pictures
C-date is inviting you to connect with like-minded singles in a friendly atmosphere.
With more than 25 000 people joining every day and a ratio of 48% / 52% woman, this dating site has managed to gather a very dynamic community that registers 10 000 daily flirts with a success rate of 72%!
It gives you the opportunity to secretly meet your desires with casual daters- men, women, and couples, who are looking for the same things as you do: spicing up your life, sharing new sensual experiences or just having fun.
C date also has a great app available for iPhone or Android so you never miss out on any flirt!
If you're looking for a relationship with no-strings-attached, or simply for a one-night-stand or to just meet interesting people around you, C date is your place!
We've especially liked the matching system and the matches that we received on a daily basis as it clearly takes into consideration all the preferences stated on the search filter.
C date is definitely the place to go if you're searching to share your erotic expectations with local singles. You'll find the messaging tools very useful when it comes to getting in touch with profiles!
Discover this great platform, we're sure you'll be able to find all the naughty dates you're probably dreaming of.
The fact that you can describe from the start your inner desires without feeling guilty or embarrassed and are given the opportunity to tell in detail what kind of casual partner you are looking for, undoubtedly eases you the way to find your ideal casual match!
Try the C date experience!